Title : Twitch Emote Guidelines
PNG Image Dimension :
File Size :
Image Type :
Posted on : Iftekhar Sharjeel
Category : Uncategorized
Tags :
Unlock and Download Free PNG Image when you Share
Twitch Emote Guidelines require short sentences, active voice writing, and adherence to all necessary rights for creating emotes. Emotes should be in .png format, square-shaped, and based on authorized uses.
Additionally, emotes should have good lighting and be linked together by style, color, or theme. Manual review and approval is necessary before emotes can be used on the site, and a violation of these guidelines can lead to rejection. Overall, it is crucial to follow these guidelines to create effective and compliant emotes for Twitch.
Understanding Twitch Emotes
Understanding Twitch Emotes
Twitch emotes are custom icons or images that Twitch users can use in chat to express various emotions and reactions. They play a crucial role in enhancing communication and interaction within the Twitch community.
What are Twitch emotes?
Twitch emotes are essentially a language of their own, representing different emotions, inside jokes, and memes within the Twitch community. They serve as a visual shorthand, allowing users to communicate quickly and effectively using just a few pixels.
Importance and purpose of Twitch emotes
Twitch emotes help foster a sense of community and belonging among viewers and streamers. They allow users to express their feelings in a fun and engaging way, adding an extra layer of interaction to the chat experience. Additionally, emotes can also be used as a form of recognition, as viewers can unlock and use emotes by subscribing to their favorite streamers.
Benefits of using Twitch emotes
Enhance communication and express emotions quickly
Create a sense of community and belonging
Add an extra layer of interaction to the chat experience
Provide recognition for streamers and viewers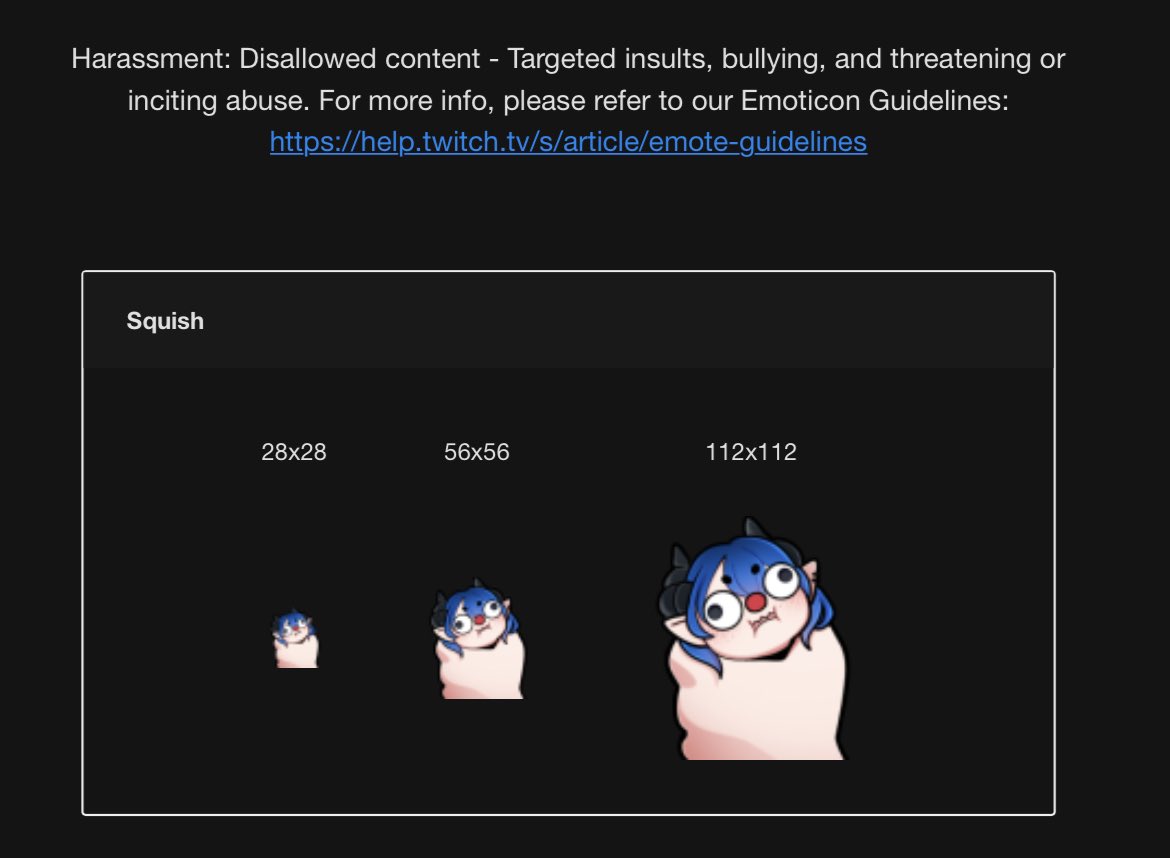 Credit: twitter.com
Designing Twitch Emotes
Designing Twitch Emotes requires careful attention to size and format requirements. When creating unique and engaging emote designs, it is important to follow the guidelines set by Twitch. The emote image must be in a .png format and must be of a square shape, with the same pixel height and width. Twitch provides a clear notice that without express permission, emotes cannot be used as they may be subject to copyrights, trademarks, and/or rights of publicity. Additionally, all emotes require manual review and approval before they can be used on the site. It is crucial to choose the right color palette and style to make your emotes stand out and engage viewers. By following these guidelines, you can create visually appealing Twitch emotes that enhance the user experience.
In this blog post, we will explore the size and format requirements for Twitch emotes, providing you with the necessary information to design captivating emotes for your Twitch channel. Let's dive in!
Submitting And Reviewing Twitch Emotes
Twitch Emote Guidelines
Guidelines for emote submission
When submitting emotes on Twitch, it is important to follow certain guidelines in order to increase your chances of approval. Firstly, ensure that your emote size is within the specified limits, as Twitch has a size limit for emotes. For partners and affiliates, emotes must undergo a manual review process and receive approval before being used on the platform. Emotes that are still under review will be marked as "Pending Approval" and won't be visible to viewers.
The review process involves checking for copyright infringement, so it's essential to make sure your emotes are original and don't violate any intellectual property rights. Twitch and third parties hold rights such as copyrights and trademarks in emotes on the platform.
If your emote gets rejected, don't worry. Twitch provides clear notice that emotes without express permission are not allowed. You can refine your emote design or reach out to Twitch to understand the reason for rejection and make necessary modifications.
Conclusion
Adhering to Twitch emote guidelines is crucial for streamers and content creators to maintain a professional and engaging chat experience. By following these guidelines, creators can ensure that their emotes are of high quality and visually appealing. It is important to remember that emotes should be unique, easy to understand, and reflect the brand or personality of the streamer.
Additionally, emotes must be in the correct format, such as. png, and have a square shape for optimal display. Streamers should also consider the size limit for Twitch emotes and create emotes that are easily recognizable, even at smaller sizes.
Moreover, it is essential to obtain all necessary rights for the images used in emotes to avoid copyright issues. By understanding and implementing these guidelines, streamers can enhance their chat experience and engage with their viewers effectively.