Twitch Emote Creator: Design Emotes Like a Pro!
Title : Twitch Emote Creator: Design Emotes Like a Pro!
PNG Image Dimension :
File Size :
Image Type :
Posted on : Iftekhar Sharjeel
Category : Uncategorized
Tags :
Unlock and Download Free PNG Image when you Share
You can make your own Twitch emotes using various online tools and platforms like Canva, Streamlabs, Fotor, Emotes Creator, and Placeit. These platforms provide free or premium services to help you design and create custom emotes that align with your brand and engage your audience.
Once you become an Affiliate on Twitch, you can upload and manage your emotes directly in your dashboard settings. Partners have the opportunity to unlock more emotes as they grow on the platform. With the right tools and creativity, you can easily customize and personalize emote templates to fit your channel's needs and gain new subscribers.
Choosing The Right Tools For Emote Design
Choosing the Right Tools for Emote Design
The importance of choosing the right tools cannot be overstated in the world of Twitch emote creation. With the plethora of options available, it's crucial to select the must-have tools that will streamline your design process and help you create high-quality emotes that resonate with your audience.
When it comes to software options, exploring different options will allow you to find the one that best suits your needs. Consider using Picrew, an online platform that offers a range of customizable emote templates to get you started. Another popular choice is Canva, which provides an intuitive interface and a wide selection of design elements.
By utilizing these tools, you can unleash your creativity and craft animated, chibi-style emotes that stand out on the Twitch platform. So why wait? Start making your own emotes and engage with your viewers in a whole new way.
Understanding Emote Guidelines And Requirements
Twitch Emote Creator is a popular online tool for creating unique and customized emotes for Twitch channels. Understanding the emote guidelines and requirements is crucial to ensure that your emotes meet the necessary specifications and are approved by Twitch.
When it comes to emote size and quality requirements, Twitch has specific guidelines that need to be followed. Emotes should be in PNG format, with a maximum file size of 25KB and a resolution of 112×112 pixels. It is important to ensure that your emotes are clear, visually appealing, and easily recognizable even at smaller sizes.
Twitch also has strict policies regarding the content of emotes. Emotes should not include any copyrighted material, offensive or explicit content, or violate Twitch's community guidelines. It is important to review and understand these policies to avoid any issues with your emote submissions.
To create emotes that meet the guidelines, consider using online emote design tools such as Canva, Streamlabs, or Fotor. These platforms offer customizable templates and easy-to-use editing features that can help you design professional-looking emotes for your Twitch channel.
By following the emote guidelines and policies, and utilizing the right tools, you can create unique and engaging emotes that enhance your Twitch channel and resonate with your audience.
Designing Engaging And Creative Emotes
Designing engaging and creative emotes is essential for creating a unique brand and attracting viewers on Twitch. To achieve this, it is important to follow some best practices in emote design.
One of the first steps in creating emotes is choosing the right style and theme. It is crucial to align the emotes with the theme and overall brand aesthetic of your Twitch channel. This will ensure consistency and make the emotes more recognizable and memorable for viewers.
When designing emotes, it is important to focus on creating memorable and catchy images. Emotes should be visually appealing and easily identifiable at small sizes. Using bold and vibrant colors, expressive characters, and clear imagery can help you achieve this.
In addition, it is important to consider the context in which the emotes will be used. Emotes must convey the desired emotion or reaction effectively, so viewers can easily understand and use them in chat.
By following these best practices, you can design engaging and creative emotes that will enhance the viewer experience and contribute to the success of your Twitch channel.
Incorporating Branding And Personality Into Emotes
Incorporating branding and personality into emotes is a crucial aspect of creating a cohesive and engaging Twitch channel. By showcasing your brand through emotes, you can effectively communicate your channel's identity to your audience. This can be achieved by customizing emotes to fit your channel's theme and adding elements that reflect your brand's style. When creating emotes, it's essential to consider your target audience and the overall aesthetic of your channel. Emotes should be visually appealing and easy to recognize, allowing viewers to establish a connection with your brand. Incorporating personality into emotes can be done by adding unique elements or expressions that align with your channel's content and the persona you want to portray. By carefully crafting emotes that represent your brand and personality, you can enhance the overall viewer experience on your Twitch channel.
Optimizing Emotes For Different Platforms
When it comes to optimizing emotes for different platforms, it's important to understand platform-specific requirements. Each platform has its own guidelines and specifications for emotes, and it's crucial to adhere to them to ensure the best viewing experience for users. For mobile viewing, it's essential to adapt emotes to fit smaller screens and maintain clarity. Consider using bold and vibrant colors, as well as simple and recognizable designs. Additionally, creating animated emotes can add a dynamic element to your channel. Use subtle motion effects to bring emotes to life and grab the attention of viewers. Overall, by understanding platform-specific requirements and following these tips, you can optimize your emotes for different platforms and engage your audience effectively.
Tips For Engaging Your Community With Emotes
Building community engagement with emotes is an important aspect of maintaining a thriving Twitch channel. One effective strategy is to host emote design contests, allowing your community members to showcase their creativity and contribute to the channel's emote library. By involving your community in the design process, you not only encourage engagement but also ensure that the emotes align with the preferences of your viewers. Additionally, responding to emote requests and feedback is crucial for community satisfaction. Actively listening to your viewers' suggestions and implementing changes or additions based on their feedback demonstrates your commitment to their experience on your channel. This fosters a sense of belonging and encourages viewers to continue actively participating in chat and supporting your content.
Monetizing Your Emote Designs
Twitch Emote Creator
Selling Emotes as Merchandise
One way to monetize your emote designs is by selling them as merchandise. You can create merchandise such as t-shirts, mugs, and stickers featuring your emotes and sell them on your website or through third-party platforms like Etsy or Redbubble. This allows your viewers to support you while also getting something tangible in return.
Offering Emotes as Subscriber Rewards
Another way to monetize your emote designs is by offering them as rewards for subscribers. Subscribers can unlock exclusive emotes based on their subscription tier, providing them with additional benefits and incentives to support your channel. This not only adds value to the subscription but also helps to build a loyal community of subscribers.
Collaborating with Other Streamers for Emote Design Opportunities
Collaborating with other streamers can provide exciting emote design opportunities. You can work together to create emotes that reflect both of your personalities and brands. This collaboration can expand your reach to each other's audiences, increase exposure, and potentially attract new viewers and subscribers.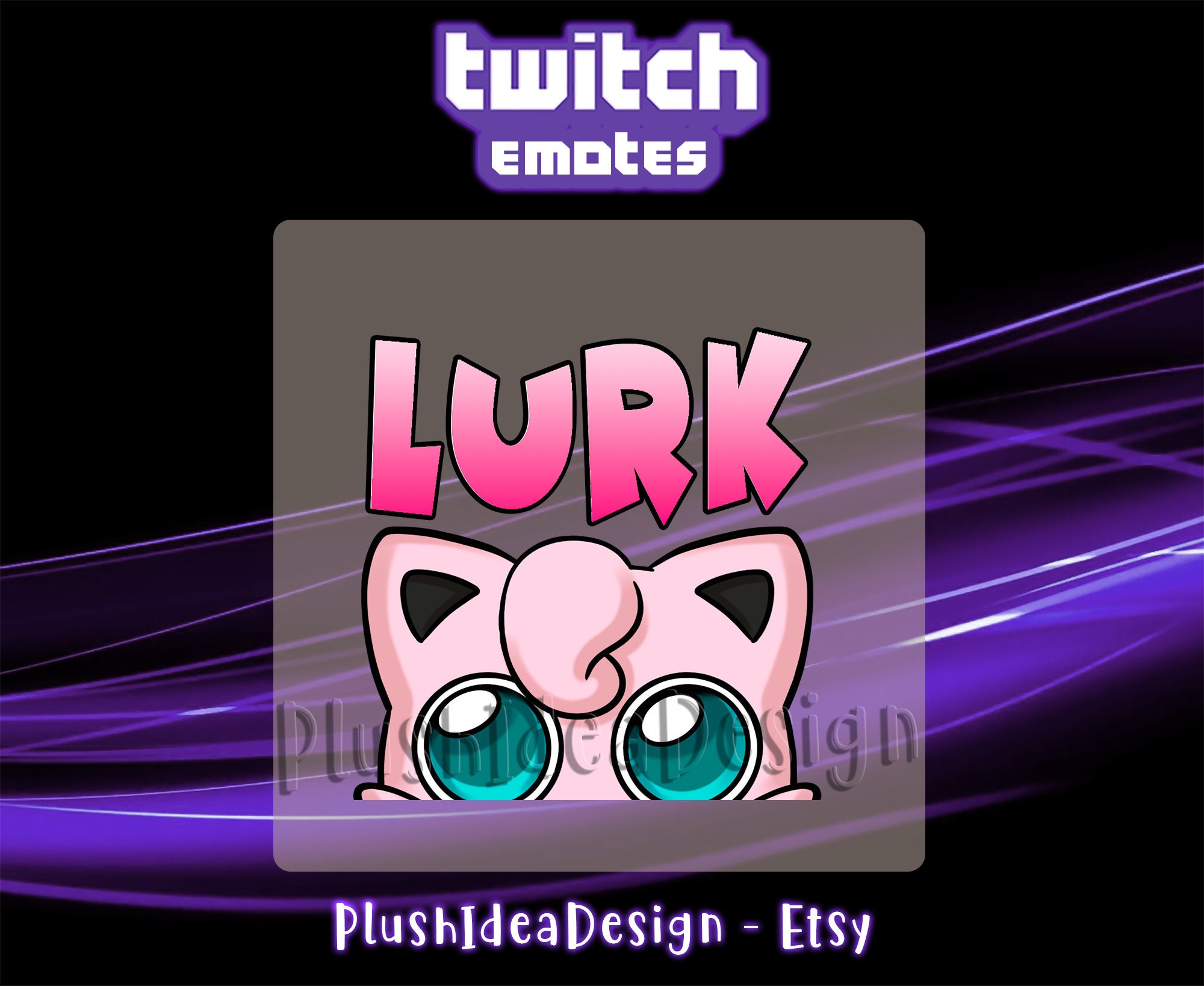 Credit: www.etsy.com
Conclusion
Creating unique and engaging emotes is essential for Twitch streamers to connect with their audience and establish their brand. With the help of a Twitch Emote Creator, streamers can easily design custom emotes that reflect their personality and add flair to their channel.
These emotes not only make the chat experience more enjoyable but also help in building a strong community. There are various options available to make Twitch emotes, ranging from free online tools like Canva's Twitch emote maker to professional software like Streamlabs Emote Maker.
These tools provide customizable templates and allow streamers to add text, symbols, and other elements to create eye-catching emotes. Becoming an Affiliate on Twitch unlocks the opportunity to use custom emotes. Streamers need to meet specific requirements regarding size and quality to upload and manage their emotes directly in their dashboard settings.
As streamers grow, they can unlock more emotes and further engage with their audience. A Twitch Emote Creator is a valuable tool for streamers to create captivating emotes and elevate their brand on Twitch. Whether you are a new streamer or an established one, utilizing emotes adds a unique touch to your channel, creating a more immersive and interactive experience for your viewers.
So, go ahead and explore the different Twitch Emote Creators available to make your channel stand out in the crowd.